The Glass Studio
Scheduled to reopen in 2025, our Glass Studio concept exemplifies dynamic and engaging environmental education by demonstrating how waste can be "upcycled" into a valuable resource. 
Our most well-known project exemplifies dynamic and engaging environmental education. As Glass Blowers transform old bottles into works of art, people enjoy a first-hand demonstration of how waste can be "upcycled" into a valuable resource. Along with Waste Management innovation, the new Glass Studio will demonstrate effective Renewable Energy strategies. Through Anaerobic Digestion, biofuel will be generated from Used Vegetable Oil (UVO) and methane will be derived from offal, manure, UVO sludge, and, potentially, Sargassum. 
How we do it

Click on the tiles below to find out more: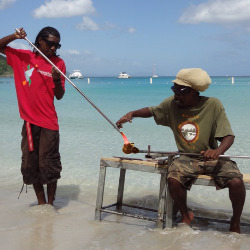 The Glass Studio will employ experienced Glassblowers, who will train local Apprentices. Up to five years are needed  to transfer Basic Skills for the hot glass, while Torch Work has a shorter training requirement. Our Guest Glass Blower Programme will enrich the training of Apprentices by exposing them to world-class skills,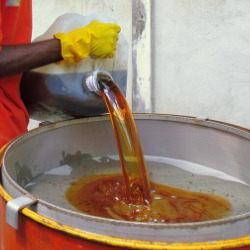 Glass Blowing Studios around the world face two main sustainability challenges –  continuing the craft of creating works of art from glass and finding alternative power sources as traditional fuels become increasingly costly.
READ MORE
We believe that employment, skills transfer and product promotion can keep the craft alive and innovative energy sources can bring down high fuel costs and associated pollution. Until 2014, our Glass Studio was primarily fuelled by expensive propane, so we introduced renewable biofuel. Our new Glass Studio will again use biofuel derived from used waste vegetable oil (UVO). This will be blended with methane from anaerobically digested offal, UVO sludge, food waste and, possibly, Sargassum.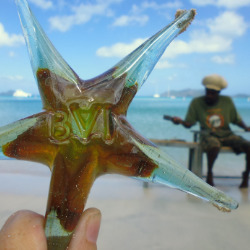 In 2014, while working on our Biofuel Conversion, we partnered  with Christian Thornton at Xaquixe in Mexico, innovators in green technologies. We are currently working with them to develop an Anaerobic Digester to complement a Biofuel process. 
READ MORE
In turn, the International Community Foundation (ICF), funded by the European Union, is overseeing a five-year investigation of best practices in Anaerobic Digestion , and researchers at Germany's Brandenburg Technical University will share their findings with Xaquixe, Green VI and another glass studio in the Maldives.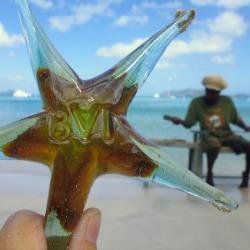 UPCYCLING GLASS
About 15% of the "waste" in the BVI is glass.  Each year, the incinerator  shuts down for approximately 20 days while the Department of Waste Management's staff manually chips melted glass off the incinerator walls. During this shut down, incoming waste is stored or burned behind the incinerator, resulting in further health hazards – such as toxic smoke, flies, and vermin.  Also, glass bottles awaiting incineration take up significant space in the limited dumpsite area. 
The Glass Studio will divert over 1000 pounds of discarded bottles per week from incineration. Bottles will be washed, cleaned of labels and lids, smashed, melted down and converted into beautiful, handmade, upcycled Glass Art  – a process for all to see. On-line shopping will be available.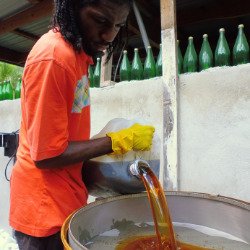 UPCYCLING USED VEGETABLE OIL
To further the sustainability and teaching opportunities of the Glass Studio, we will reuse UVO collected from local restaurants. The reuse of UVO demonstrates an alternative fuel source and helps alleviate major waste management problems caused by discarded  grease clogging sewer lines.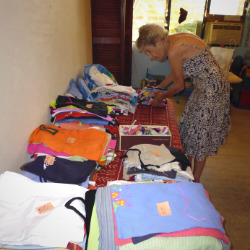 UPCYCLING TEXTILE WASTE
Our bags for products will be made from discarded textile waste, such as t-shirts. Our good friend, Barbara Bailey, hand-crafted bags and helped train prison inmates in this upcycling process.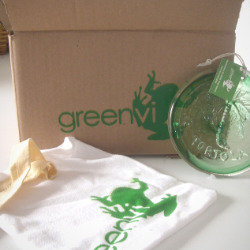 UPCYCLING CARDBOARD FOR REPURPOSED PACKAGING
Repurposed packaging Adina Potter came up with the idea to turn old boxes inside out, allowing us to screenprint our logo on the box.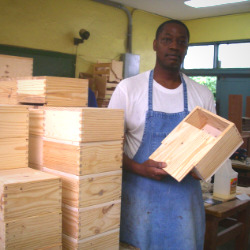 UPCYCLING PALLETS
Eldred Scatliffe, a gifted woodworker, saw the potential in old pallets that are usually discarded. He created beautiful wooden gift boxes for us.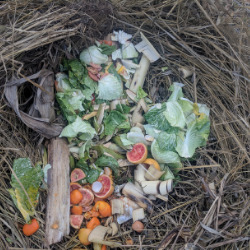 UPCYCLING FOOD WASTE
We aim to incorporate food waste from our community college, HLSCC, into our Anaerobic Digester, which can convert organics into methane – a form of energy that is perfect for powering The Glass Studio furnace.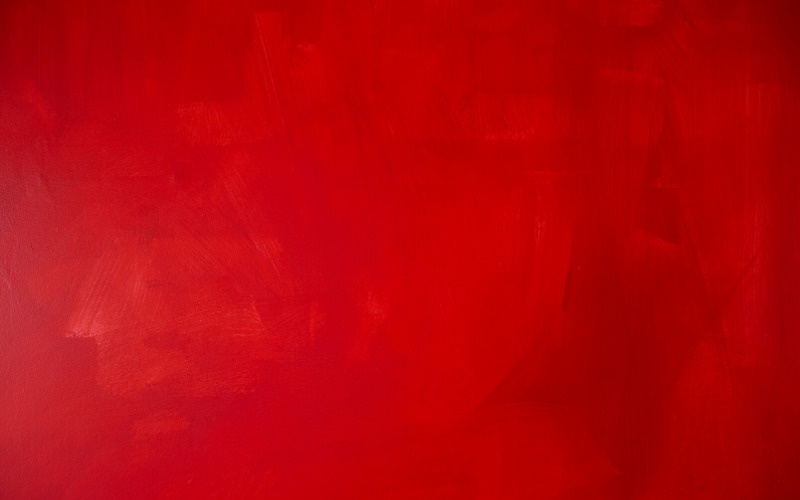 UPCYCLING OFFAL
Offal, such as blood, organs and bones from the Abattoir will be mixed into the Anaerobic Digester to produce methane – a form of energy that is perfect for powering The Glass Studio furnace.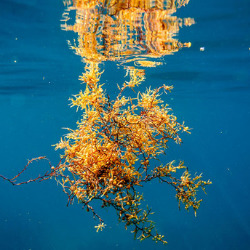 UPCYCLING SARGASSUM
Sargassum will be tested for its energy content and can, hopefully, be incorporated into the Anaerobic Digester to produce methane – a form of energy that is perfect for powering The Glass Studio furnace. 
ECOPARKS 
Green VI's EcoParks will demonstrate how humans and the natural world can live in harmony – through innovation and symbiosis. The aim is to create Centres of Excellence that are sustainable, scalable and replicable models. They will feature best practices for Materials Management, Food Security, Renewable Energy, Water Management and Education – all designed to engage and inspire visitors.