For four years, Green VI has offered students practical training on how to turn everyday Trash into Treasure. Our school workshops provide hands on experience to artistic and creative ways to use trash.
Partnering once again with the BVI Tourist Board's Trash to Treasure Competition, Green VI's artists worked with the children to have fun and create. In 2015, 10 schools from Tortola, Virgin Gorda and Jost van Dyke participated  in the Trash to Treasure workshops and the following "trash" was used:
Old t-shirts
Plastic bottles
Formica samples
Electrical wire scraps
 No sew t-shirt totes/bags:
Take an old t-shirt and with scissors carefully cut strips at base.
 Knot strips together to close the bottom of the t-shirt and cut sleeves off to make handles.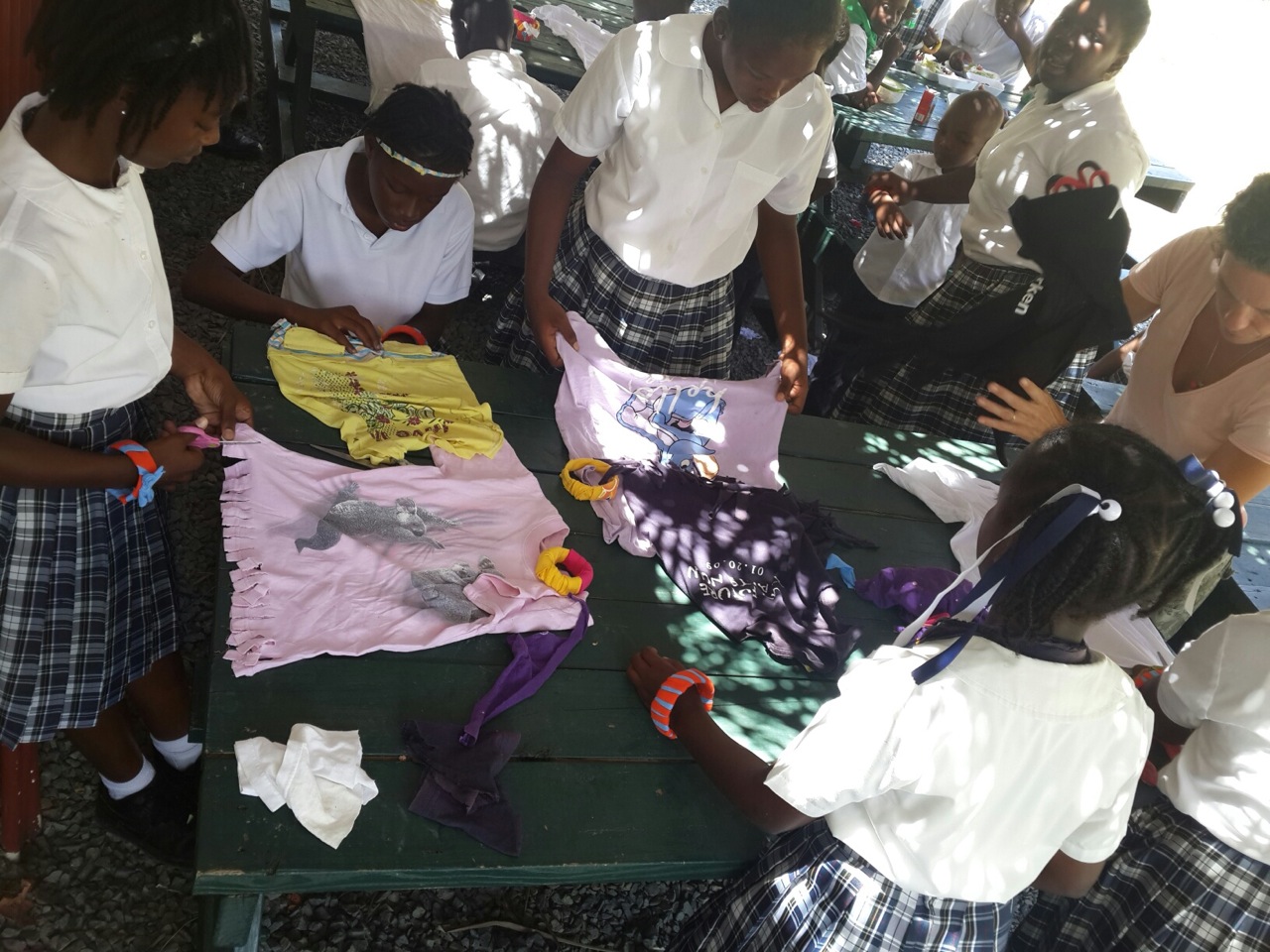 Plastic bottle & t-shirt bracelets:
 Take an empty plastic water bottle and slice into inch thick strips.
 Cut t-shirt into strips and wrap plastic bottle ring neatly all the way around & finish with glue.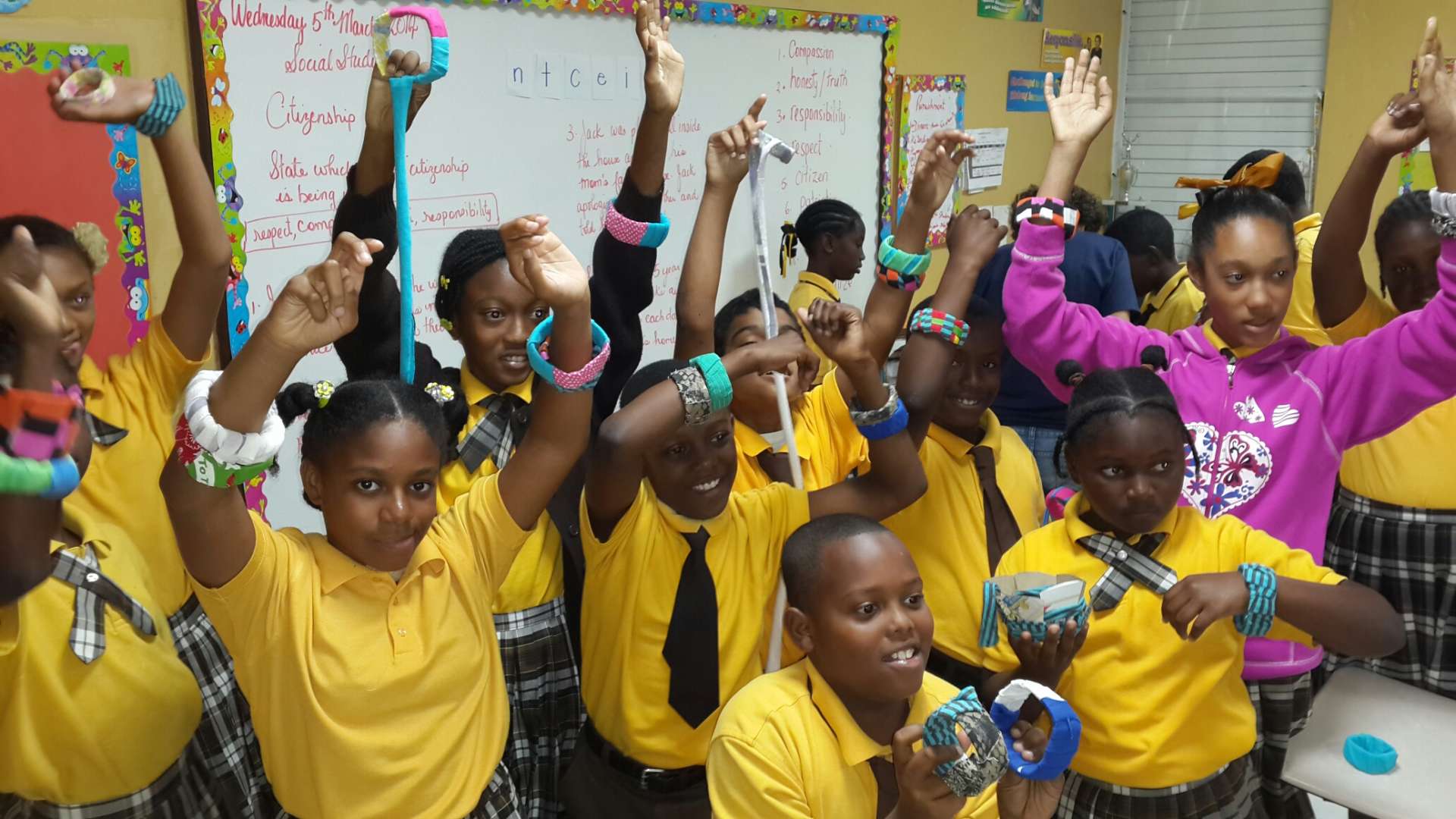 Key rings & Name tags using formica samples & old wire.
 Select a formica sample chip, cut out interesting & fun pictures and words from an old magazine.
 Collage your selection using glue onto the formica.
 Using old electrical wire scraps make rings/circles to attach keys or tag on your bag!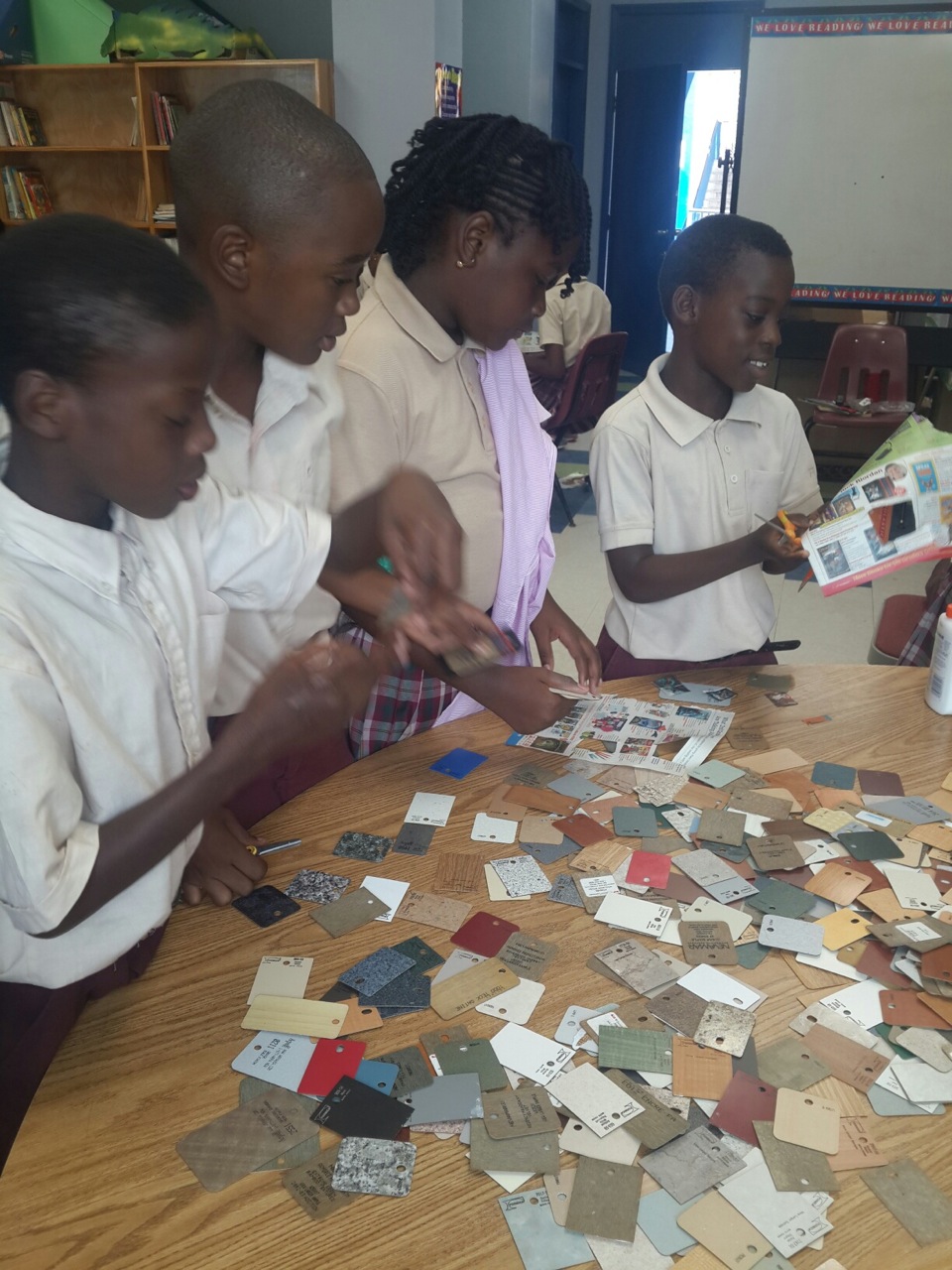 Our objective with the Trash to Treasure art workshops is to change the way children look at waste. We demonstrate that each time you have something to discard, ask yourself, "what could this become?" Endless possibilities were discussed and children are encouraged to use their imagination. The idea of challenging yourself in a unique way and to breathe new life into discarded objects is presented to the youth. There are so many things people throw away every day that can be used to create crafts: Bottles can become art (or bracelets), paper and cardboard can become decorations, many containers can be used again to hold new things in completely new ways! For more ideas on what you can make, see last year's Trash to Treasure report attached at the bottom of the page or simply go online. There are some great ideas out there!
The Trash to Treasure programme provides opportunities for people to learn how to reduce waste by recycling and reusing materials (trash) to make useful and useable products. The programme has several elements:
Waste reduction
Development of artistic skills/creativity
Learning to save finances by making rather than buying
Developing entrepreneurial skills
Self-sufficiency
Annual Trash to Treasure Events in the BVI include:
The BVI Tourist Board's annual Trash to Treasure Competition for local schools. This contest is usually run early in the year. For more information on this event please contact the BVI Tourist Board at 494-3134 or visit their website at www.bvitouristboard.com
Green VI facilitate trash to treasure workshops to support the BVI Tourist Board's competition. Contact us at greenviorg@gmail.com to book your session.
The BVI National Parks Trust annual Festival in the Gardens. The timing of this festival varies, however it is normally held around May every year. There is usually a floral competition for persons who wish to make flowers from natural or recycled materials. Sometimes a trash to treasure art competition is a part of the activities during the festival. For further information on this event please contact the BVI National Parks Trust at 852-3650.
The Green VI/Nutmeg Designs annual 'CHAIR-ity' event.  This is a fundraiser in which persons make chairs using recycled materials and the chairs are auctioned off to raise funds for Green VI. For further information on the CHAIR-ity event, contact Nutmeg Designs at: nutmegdesignsbvi@gmail.com or check them out www.nutmegdesignsbvi.com
The Youth Empowerment Programme (YEP) on the eastern end of Tortola has an ongoing Trash to Treasure Art Programme. This is a great place to view exhibits of Trash to Treasure Art